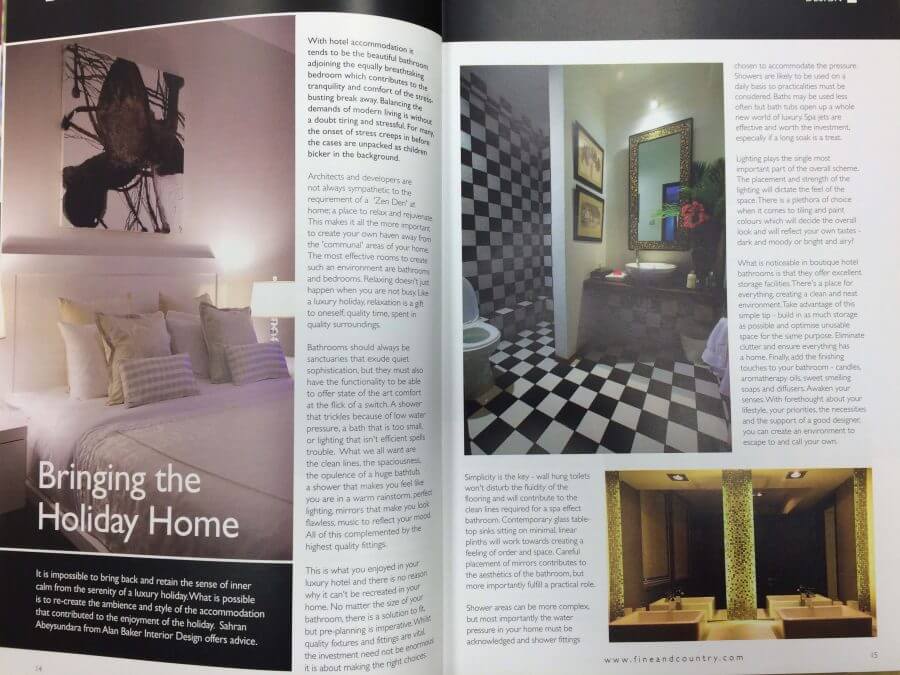 BRINGING THE HOLIDAY HOME
It is impossible to bring back and retain the sense of inner calm gained from the serenity of a luxury holiday. What is possible, is to re-create the ambience and style of the accommodation that contributed to the enjoyment of said holiday. Lead Designer of The Silkroad Interiors and Flooring, Sahran, offers his advice.
With hotel accommodation, it tends to be the beautiful bathroom adjoining the equally breath-taking bedroom which contributes to the tranquillity and comfort of the stress-busting break away. Balancing the demands of modern living is without a doubt tiring and stressful. For many, the onset of stress creeps in before the cases are unpacked as tired children bicker in the background.
Architects and developers are not always sympathetic to the requirement of a 'Zen Den' at home, a place to relax and rejuvenate. This makes it even more important to create your own haven away from the 'communal' areas of your home. The most effective rooms to create such an environment are bathrooms and bedrooms. Relaxing doesn't just happen when you are not busy. Like a luxury holiday, relaxation is a gift to oneself, quality time, spent in quality surroundings.
Bathrooms should always be sanctuaries that exude quiet sophistication, but they must also have the functionality to be able to offer state of the art comfort at the flick of a switch. A shower that trickles because of lower water pressure, a bath that is too small or lighting that isn't efficient spells trouble. What we all want are clean lines, spaciousness, the opulence of a huge bathtub, a shower that makes you feel like are in a warm rainstorm, perfect lighting, mirrors that make you look flawless, music to reflect your mood. All of this complimented by the finest fittings.
This is what you enjoyed in your luxury hotel and there is no reason why it can't be recreated in your home. No matter the size of your bathroom, there is a solution, but pre-planning is paramount. It is about making the right choices. Simplicity is key – wall hung toilets won't disturb the fluidity of the flooring, contemporary glass table-top sinks, sited on minimal, linear plinths will work towards creating a feeling or order and space. Careful placement of mirrors will contribute to the aesthetics of the bathroom whilst fulfilling a practical role.
Efficient showers rely on adequate water pressure and shower fittings chosen to accommodate this. Showers are likely to be used daily so practicalities must be taken into consideration. Baths may be used less often, but they open a new world of luxury. Spa jets are effective and worth the investment if a long soak is a treat.
Lighting plays the single most important part of the overall scheme. The placement and strength of the lighting will dictate the feel of the space. There is a plethora of choice when it comes to tiling and paint colours which will decide the overall look and feel – dark and moody or light and airy?
What is noticeable in boutique hotel bathrooms is that they offer excellent storage facilities. There's a place for everything, creating a clean and neat environment. Take advantage of this simple tip – build in as much storage as possible and optimise unusable space for the same purpose. Eliminate clutter and ensure that everything has a home. Finally, add the finishing touches to your bathroom – candles, aromatherapy oils, sweet smelling soaps and diffusers. Awaken your senses.
Bedrooms
Bedrooms also play a key role in the quest for peace and quiet. These are often the smallest areas in our home and yet accommodate the largest pieces of furniture. Bedrooms should have an emphasis on 'soft' and 'opulent'. The trick is to allude to more space than exists.
Creating 'hotel chic' requires an in-depth knowledge of colour and textiles. Most luxury hotels benefit from a professional interior designer to ensure a seamless and continuous finish. Calm sophistication does not mean dull and boring; however, it is prudent to acknowledge that fashionable colours will date over time. The ideal is a result that is timeless, elegant and welcoming and above all a retreat.
Colour selection is a key consideration and by creating a mood board mistakes will be highlighted. The colour of the walls must work with the colour of the soft furnishings and colour reflection should also be considered. Look at the natural light and enhance what you have. This will dictate the overall colour palette. For example, north facing smaller areas will need more careful attention to colour choices, best relying on lighter or pastel shades, whereas larger and brighter bedrooms offer more scope and wider colour choices.
The route when selecting fabrics for the soft furnishings should be clearer. The colour on the walls is often the smallest element in bedrooms, with fabrics making the biggest impact. To create a relaxing and opulent retreat, fabrics should be of a superior quality to ensure they retain their shape. Simple, elegant fabrics should be used for larger areas such as curtains, with impact being created using cushions and throws. More fabric than less is key.
The largest piece of furniture is the bed. Ensure this is the centrepiece with upholstered headboards, best quality fresh linen (white will be the designer's first choice) and cushions of carrying sizes creating a waterfall of sumptuousness at the head of the bed, tumbling down towards the textured, rich throw at the foot. By layering textures and fabrics in this manner it is easy to create a feel of luxury. A deep velvet pile carpet will further add to the comfort of the bedroom.
Finally, lighting….. where lamps are placed, the quality of the fittings, the design of the fittings and the strength of the light will all have a make or break effect on the scheme. Fabrics and soft furnishings provide soul, lighting creates character.
Don't rely on your next holiday to de-stress, create your own haven at home.