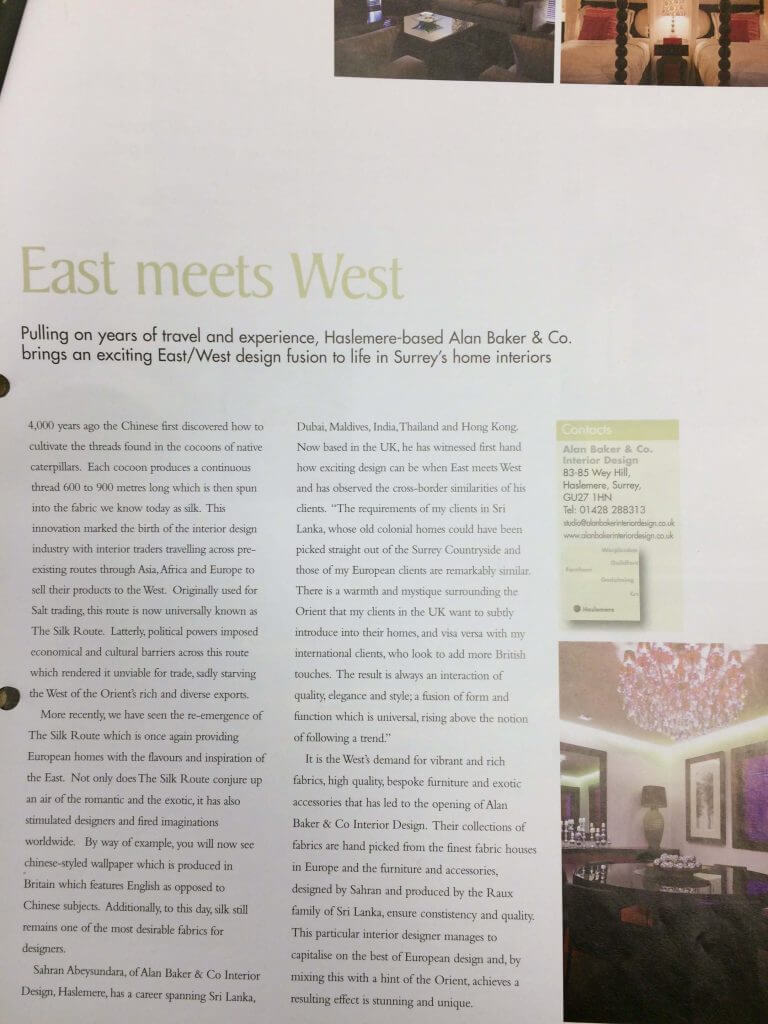 EAST MEETS WEST
4,000 years ago, the Chinese first discovered how to cultivate the threads found in the cocoons of native caterpillars. Each cocoon products a continuous thread of 600 – 900 metres long which is then spun into the fabric we know today as Silk. This innovation marked the birth of the interior design industry with interior traders travelling across the pre-existing routes through Asia, Africa and Europe to sell their products to the West. Originally used for salt trading, this route is now universally known as The Silk Route. Latterly, political powers imposed economic and cultural barriers across this route which rendered it unviable for trade, sadly starving the West of the Orient's rich and diverse imports.
More recently, we have seen the re-emergence of The Silk Route which is once again providing European homes with the flavours and inspiration of the East. Not only does The Silk Route conjure up an air of the romantic and the exotic, it has also stimulated designers and fired imaginations worldwide. By way of example, you will now see Chinese-styled wallpaper which is produced in Britain, and features English as opposed to Chinese subjects. To this day, Silk remains one of the most desirable fabrics for designers.
Lead interior designer at The Silkroad Interiors and Flooring, Sahran Abeysundara, has a career spanning Sri Lanka, Dubai, Maldives, India, Thailand and Hong Kong. Now based in the UK, he has witnessed first-hand how exciting design can be when East meets West and has observed the cross-border similarities of his clients. "The requirement of my clients in Sri Lanka, whose old colonial homes could have been picked straight out of the Surrey Countryside, and those of my European clientele are remarkably similar. There is a warmth and mystique surrounding the Orient that my clients in the UK want to subtly introduce into their homes, and vice versa with my international clients, who look to add more British touches into their homes. The result is always an interaction of quality, elegance and style; a fusion of form and function which is universal rising above the notion of following a trend".
It is the West's demand for vibrant and rich fabrics, high quality bespoke furniture and exotic accessories that has led to the success of The Silkroad Interiors and Flooring.