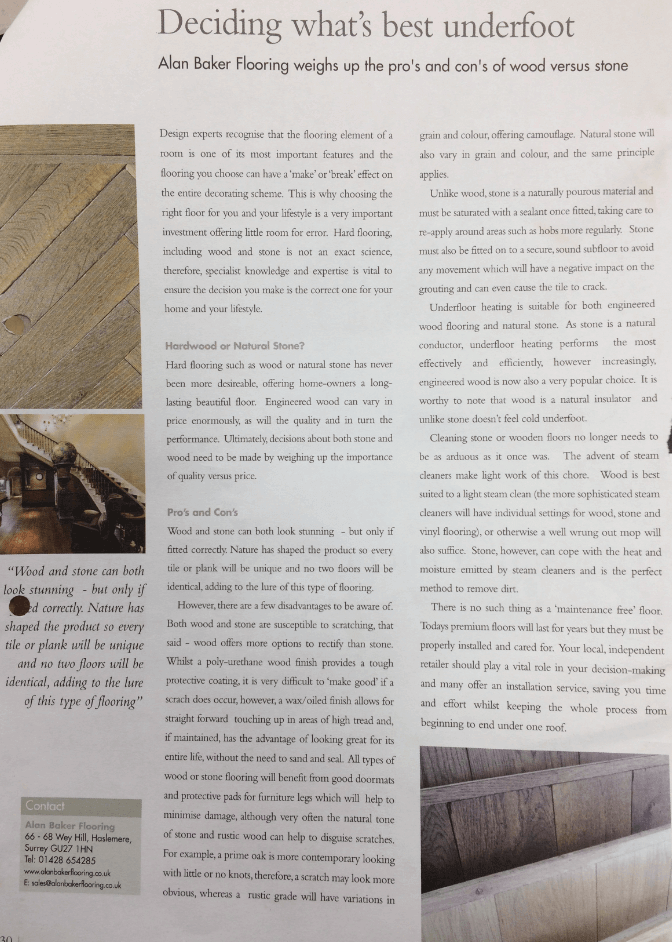 DECIDING WHATS' BEST UNDERFOOT
The Silkroad Interiors and Flooring weighs up the popular options of today.
Design experts recognise that the flooring element of a room is one of its most key features and the flooring you choose can have a 'make or break' effect on the entire decorating scheme. Therefore, choosing the right floor for you and your lifestyle is a very important investment offering little room for error. Hard flooring, including wood and stone is not an exact science, therefore, specialist knowledge and expertise is vital to ensure the decision you make is the correct one for your home and your lifestyle.
What makes choosing a floor tougher still, is that there are no 'rights' or 'wrongs' – merely what may be more appropriate than not. Whilst there are many options with flooring, it seems that carpet remains the stalwart of the industry, with stone and wood raising the most queries regarding maintenance and performance.
Hardwood or Natural Stone?
Hard flooring such as wood or natural stone has never been more desirable, offering home-owners a long-lasting beautiful floor. Engineered wood can vary in price enormously, as will the quality and in turn the performance. Ultimately, decisions about both stone and wood need to be made by weighing up the importance of quality versus price.
Pro's and Con's
Wood and stone can both look stunning – but only fitted correctly. Nature has shaped the product so very tile or plank will be unique and no two floors will be identical, adding to the lure of this type of flooring.
However, there are a few disadvantages to be aware of. Both wood and stone are susceptible to scratching, however, wood offers more options to rectify than stone – scratches to stone will be more permanent. Whilst a ploly-urethane wood finish proved a tough protective coating, it is very difficult to 'make good' if a scratch does occur, however, a wax/oil finish allows for straight forward touching up in areas of high tread and if maintained, has the advantage of looking great for its entire life, without the need to sand and seal. All types of wood or stone flooring will benefit from good doormats and protective pads for furniture legs which will help to minimise damage, although very often the natural tone of stone and rustic wood can help to disguise scratches. For example, a prime oak is more contemporary looking with little or no knots, therefore, a scratch may look more obvious, whereas a rustic grade will have variations in grain and colour, offering an element of 'camouflage'. Natural stone will also very in grain and colour and the same principle applies.
Unlike wood, stone is naturally porous and must be saturated with a sealant after fitting, taking care to re-apply around areas such as hobs more regularly. Stone must also be fitted onto a secure, sound subfloor to avoid any movement which will have a negative impact on the grouting and can even cause a tile to crack.
Underfloor heating is suitable for both engineered wood flooring and natural stone. As stone is a natural conductor, underfloor heating performs effectively and efficiently, however, increasingly engineered wood is now also a very popular choice. It is worth noting, that Wood is a natural insulator, is not cold underfoot and will not perform as efficiently as stone.
Cleaning stone or wooden floors no longer need to be as arduous as it once was. The advent of steam cleaners makes light work of this chore. Wood is best suited to a light steam clean (the more sophisticated steam cleaners have individual setting for wood, stone and vinyl flooring), or otherwise a well-wrung out mop will suffice. Stone, however, can cope with the heat and moisture emitted by steam cleaners and this is the perfect method to remove dirt.
Carpets
Carpet still remains the most popular and cost effective option, with consumers now able to enjoy collections that embrace colour, pattern and design which were previously only available in the more up-market ranges. Consumers have been inspired and are having more fun than ever capitalising on what's on offer. Stripes on stairs, tartan in studies, spots in children's rooms…. The industry has moved on significantly with qualities increasing to pleasing standards. Maintenance of carpets are surprisingly simple – carpets can easily be cleaned using hot water extraction machines which rely on heat and water to effectively remove soiling – the purchase of one is a a very prudent purchase.
There is no such thing as a 'maintenance free' floor. Today's premium floors will last for years but they must be properly installed and cared for. Your local, independent retailer will play a vital role in your decision-making and many will offer an installation service, saving you time and effort whilst keeping the entire process under one roof.