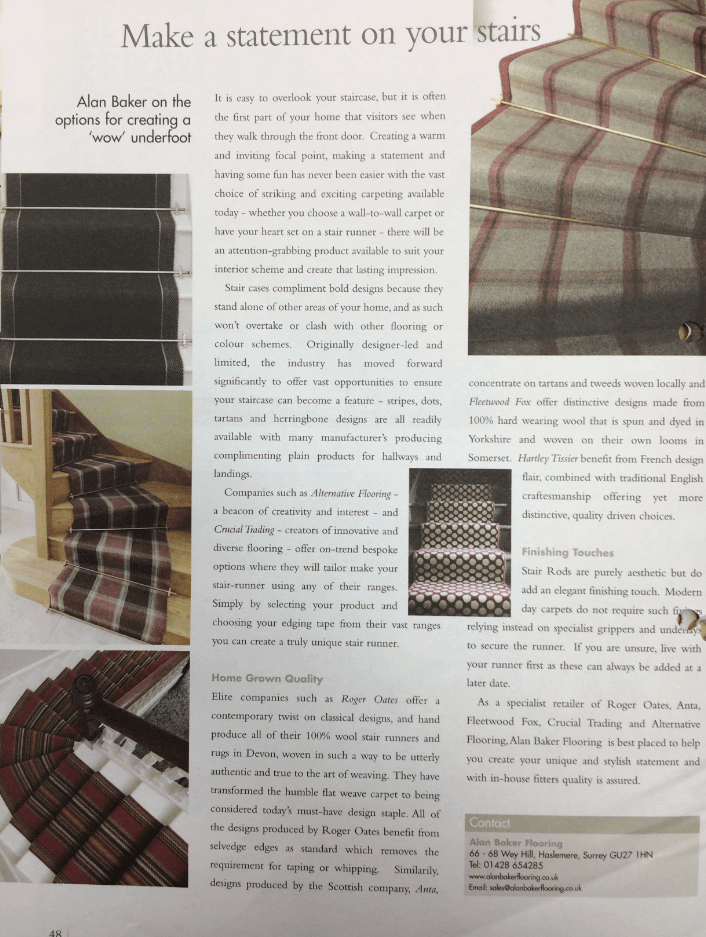 MAKE A STATEMENT ON YOUR STAIRS
It is easy to overlook your staircase, but it is often the first part of your home that visitors see when they walk through the front door. Creating a warm and inviting focal point, making a statement and having some fun has never been easier with the vast choice of striking and exciting carpeting available today to create that lasting impression.
Staircases compliment bold designs because they stand alone from other areas of your homes, and as such won't overtake or clash with other flooring or colour schemes. Originally designer-led and limited, the industry has moved forward significantly to offer vast opportunities to ensure your staircase becomes a feature. Stripes, spots, tartans and herringbone designs are all readily available with many manufacturer's producing complimenting plain products for hallways and landings.
So much choice can be daunting which is why independent retailers, such as The Silkroad Interiors and Flooring based in Haslemere, Surrey are passionate about the importance of rising above the faceless medium of the internet and offer the highest levels of service and specialist, impartial advice to ensure clients are fully informed with their decision- making.
Creating a "WOW"
Elite companies such as Roger Oates (also keep an eye out for Fleetwood Fox and Anta) offer over a 100 samples to choose from. Considered as a "must have" design statement, Roger Oates is hand finished, and loomed in such a way as to be utterly authentic and true to the art of weaving and their designs are grounded in chic twenty-first century taste offering a contemporary twist on classical designs. Produced with selvedge edges as standard the requirement for additional taping or whipping is removed. Alternative Flooring and Crucial Trading both create innovative and diverse flooring with bespoke options to create your very own personalised stair runner or rug.
Creating a statement on the stairs can be successfully combined with wooden flooring either on landings or in hallways. Another premium product that cannot fail to impress is their bespoke wood flooring range which originate from Europe and is hand finished to precise client requirements. The calibre of these products cannot be mistaken and continually exceed client expectations.
Finishing Touches
Stair Rods are purely aesthetic but do add an elegant finish touch. Modern day carpets to not require such fixings, relying instead on specialist grippers and underlays to secure the runner. If you are unsure, these can be added at a later date.
As a specialist retailer of Roger Oates, Fleetwood Fox, Crucial Trading and Alternative Flooring, The Silkroad Interiors and Flooring is best placed to help you create your unique statement.